Custom Anniversary Cards with Photos & Videos
Make Anniversaries Unforgettable! 💖 Collect heartwarming photo & video messages from friends and family and create a truly memorable anniversary card. Celebrate your loved ones in a unique and special way with our personalized anniversary cards. 💑🎈🎁
Create an Anniversary Card
How Guestory's Anniversary Cards Work
Step 1
Create an Anniversary Card
Start a group anniversary card for your special couple and add photos and videos messages.
Step 2
Invite others
Invite others to add their contributions and watch the group card grow.
Step 3
Deliver it to the couple
When your group card is ready, send it to the couple and play it as a heartwarming story.
Collect and display photos and videos messages all in one solution
Tired of traditional anniversary cards? In minutes, you can create a shareable story where your family and friends can leave dedications, share photos, and post video messages.
Quick to setup
A dedicated landing page
Create a dedicated landing page for your anniversary. Share the page link easily via email, social media, or instant messaging. Setup can be done in two minutes.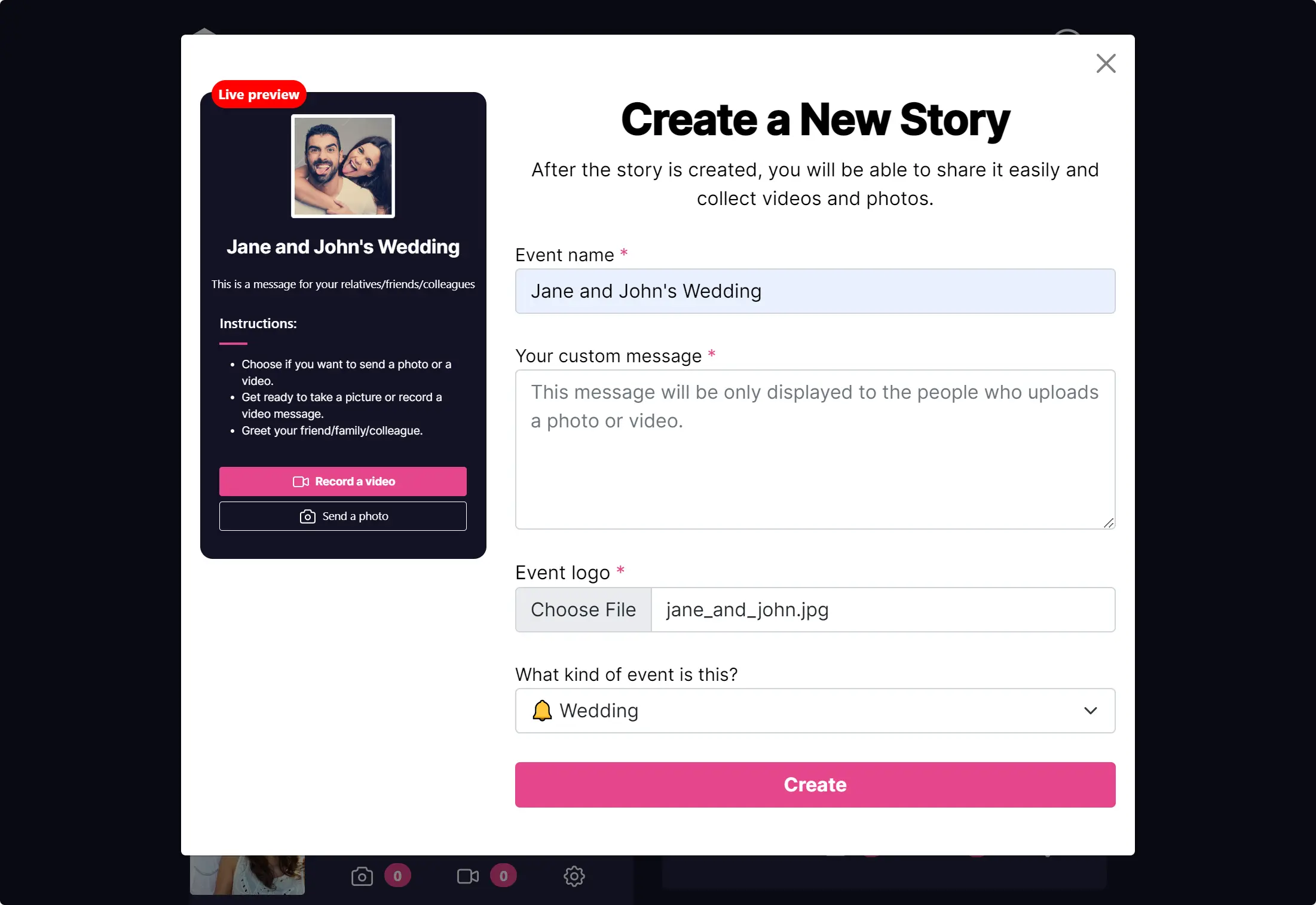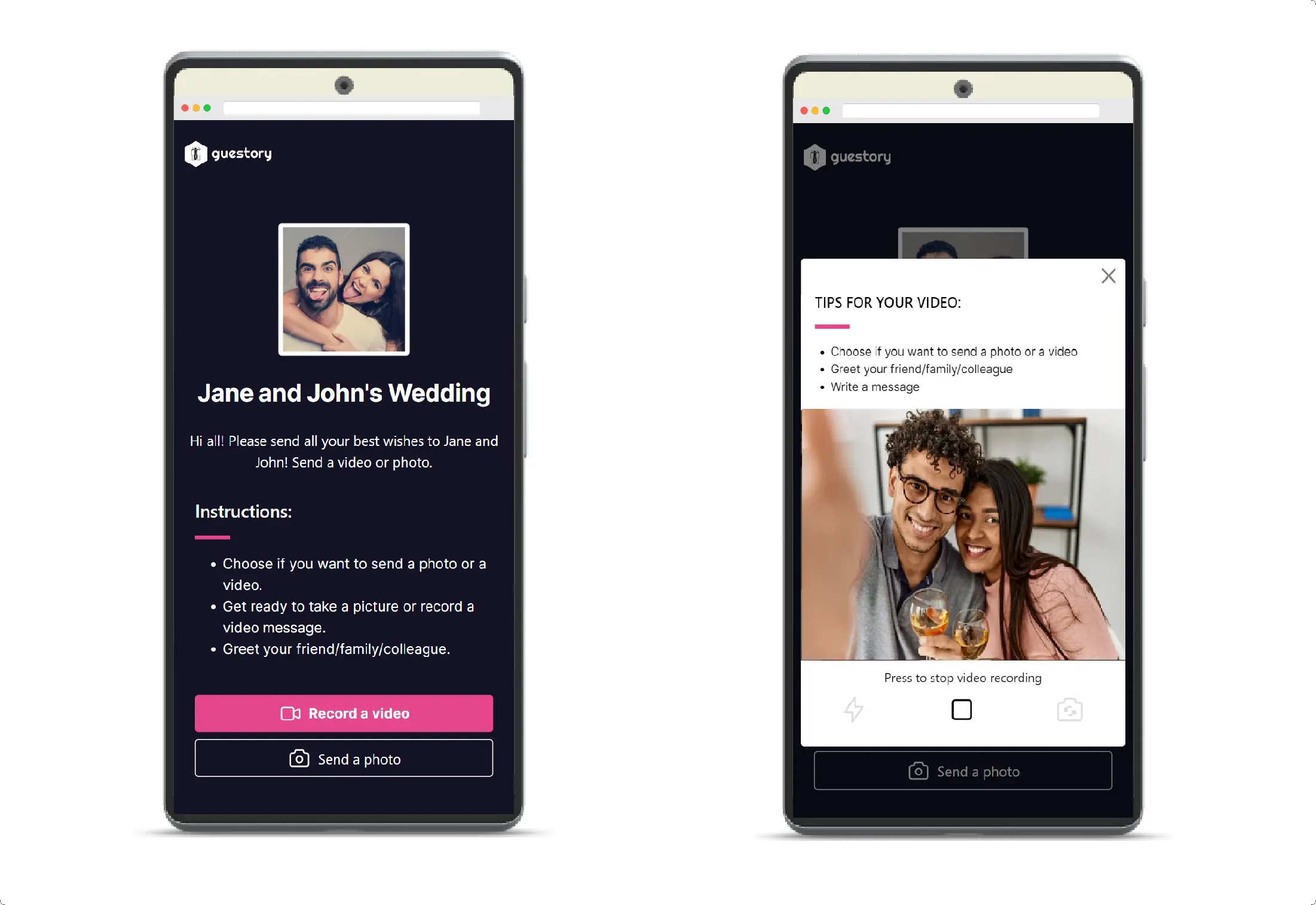 No registration or app required
Start collecting videos & photos with ease
Your family and friends can start sending their special message right away from the browser.
Easy to manage
A dashboard to manage all contributions
You will have a simple & clean dashboard to manage all videos & photos in one place. So easy to use even your mom or dad knows how to do it!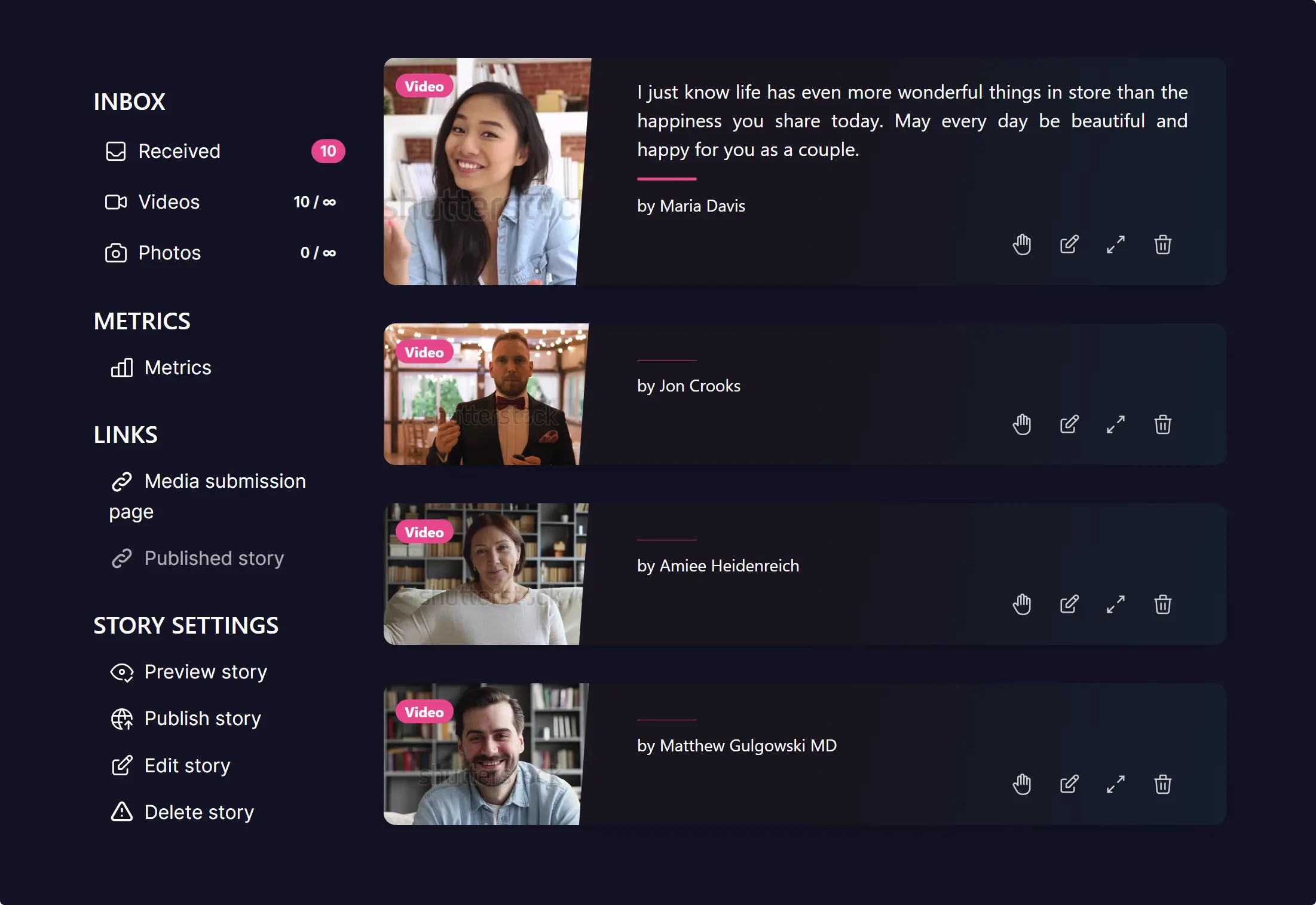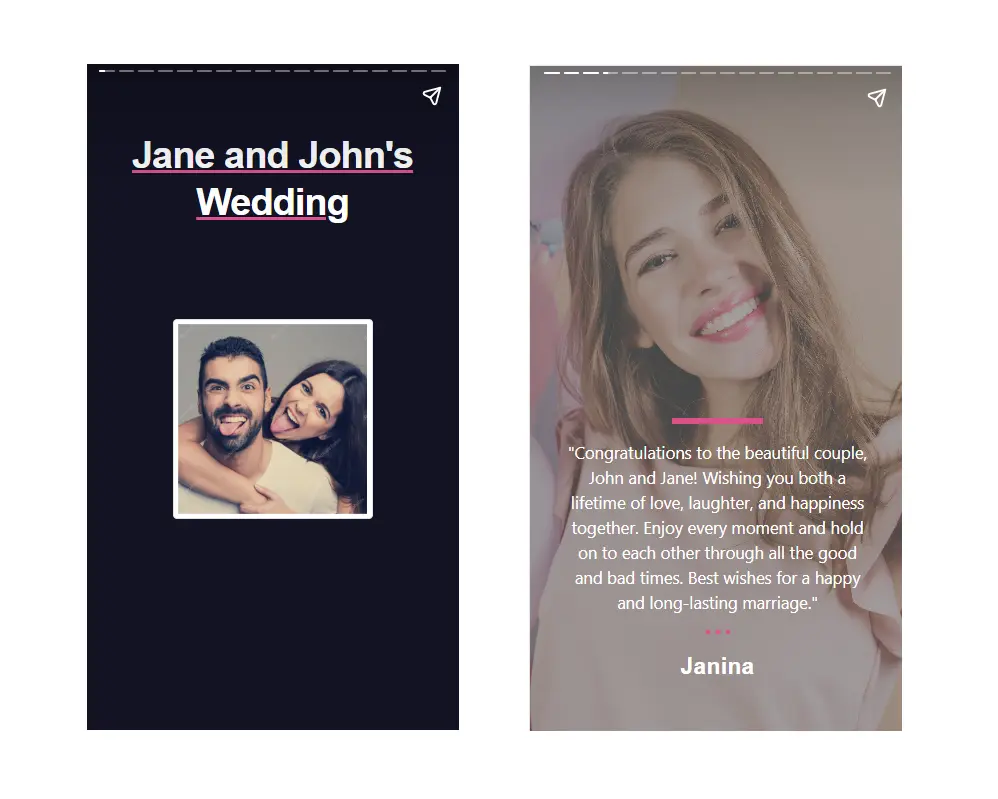 Modern visualization modes
Deliver Appreciation 🎁
Deliver the group anniversary card online and play it as a heartwarming story
Pricing
Choose the option that's right for you. From single group cards to ongoing plans, for personal use or for the office.
Starter
Free
Add 2 videos and unlimited photos for free
✔️ 1 collaborative story

✔️ 2 free videos

✔️ 30 seconds limit on each video

✔️ Collect Unlimited photos
Premium
9.90€
The smart choice
✔️ Everything in starter plan, plus...

✔️ Collect unlimited videos

✔️ More than 1 minute limit on each video

✔️ Stories not deleted after 7 days

✔️ Premium story options

✔️ Remove Guestory branding
Enterprise
Custom
Get a quote
✔️ Everything in the premium plan

✔️ Volume discount for your business

✔️ Customizations
Personalized group ecards for every anniversary
You've seen it before. A special anniversary is just around the corner, and someone starts to pass around a card in a manila folder for everyone to sign. There's barely space on the card for people to add a note (let alone a signature!). And five team members are traveling for a conference while another one works remotely, so getting everyone to sign is basically impossible.
Inviting team members to contribute, wherever they are, is a breeze. Simply send them the link to the board or use our system to email them an invitation. Then sit back, relax, and watch the anniversary posts roll in. And we're not just talking about a short note + a signature. Team members can add photos, GIFs, & videos to make the board fun and personalized for the couple.
With Guestory, there's a better way.
Frequently Asked Questions about Anniversary Cards
👉
No, registration is only required to create an anniversary group card, but not necessary for sending your anniversary photo/video message.
👉
Each anniversary group card costs 10€ and includes unlimited photos and video messages. Check our pricing page for discounts on multiple anniversary cards.
👉
In the free version of the service, you can send unlimited photos and up to 2 video messages. With the paid version, you can send unlimited photos and video messages, without any restrictions on the number of video messages.
👉
An unlimited number of people can contribute to your anniversary card.
👉
Free anniversary group cards will be accessible for 30 days after publication. The paid anniversary card will remain available online for at least one year from the delivery date. Rest assured, even if storage limits are reached, the anniversary card is likely to remain available indefinitely.
👉
Once the anniversary card is created, a unique and non-searchable share URL is generated. You can share this URL with others to allow them to access the anniversary card. With billions of possible share URLs, it's highly unlikely for someone to guess it. However, if you need to change the URL due to sharing with the wrong people, contact us, and we'll be happy to assist you with the change.
👉
We are actively working on implementing this feature and aim to release it as soon as possible.
Personalized group ecards for every anniversary